​
​
Our Strategic Wellness consultancy services address why a deliberate, holistic and strategic approach to employee health is needed to positively impact productivity, engagement, retention rates and attract the best talent.
​
​Overview
With increasing demands from organisations, we are seeing a rise in employee stress and ill health with over 55,000 workers experiencing work-related illness in Ireland, increasing absenteeism rates and 3/10 employees experiencing a mental health problem in 1 year.
These challenges impact business productivity, engagement and attrition. Wellness Programmes have been proven to have both a benefit for the employee and employer. Many wellness programmes focus on educating the employee on how to get and maintain health and well-being with little focus or business strategy to enable both the employee and employer to gain.
We offer strategic wellness consultancy for organisations that want to not only educate employees on how to get and stay healthy but improve productivity, engagement, retention rates and attract the best talent.
Our customised design process helps meet your needs by understanding the key areas of focus or challenge within your organisation, design the strategy to help address the specific employee challenges and measure the success of this against key markers. We help you embed this across the full employee cycle.
​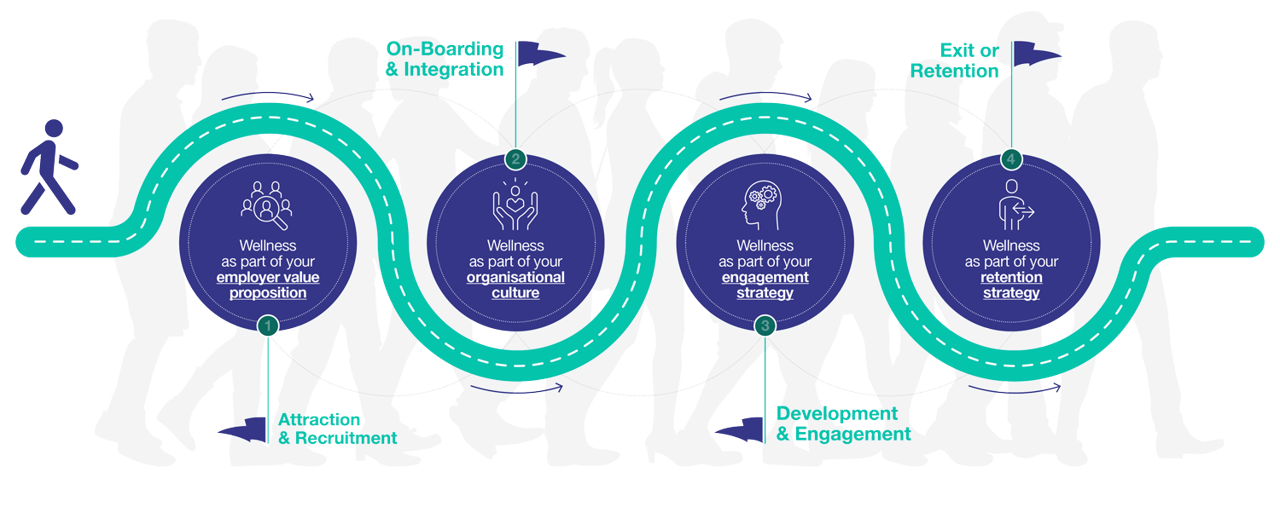 ​
Wellness Solution Types
​
Our 4 Step Process
The full wellness strategy is developed and delivered over a 4 step process, detailed below, and tailored to each organisation's requirements and budget:
Understand – Using workshops and our evidence based digital diagnostic we take a root cause approach to understand business needs, culture and the challenges employees face when it comes to their health and well-being

Design – based on this we design a tailored wellness strategy and a framework of recommendations aligned to your business and employee needs. This includes communication, implementation and measurement plan, cost analysis, vendor analysis and further recommendations

Deliver – We can support you or manage the implementation for you via our expert Wellness Consultants and strategic partners managing all agreed vendors on your behalf. Alternatively, if you chose to, we can set you up to manage this internally. The choice is yours.

Measure – Following 6/9 months of implementing the proposed interventions we will commence our review and measurement process analysing and reporting on the success of the programme, provide feedback and recommendations for continuous improvement. You should see significant improvements in the initial agreed measurement markers.